Breakfast Crepes
French crepes taste delicious with fresh fruit. Strawberries, peaches, raspberries, or blueberries make a breakfast a special treat.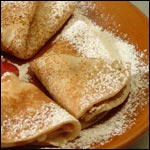 Makes 6 crepes
3 eggs
1 1/2 cups milk
2 Tbsp butter or margarine, melted
1 Tbsp sugar
1/2 tsp salt
1 cup flour
2 tsp oil
1 Tbsp. confectioners' (powered) sugar, optinal
Syrup, optional
Whip Cream (optional)
Whisk the flour and the eggs together in a large mixing bowl. Slowly stir in the milk and the water. Add the salt and butter, and beat the mixture until smooth.
If you have a crepe maker, you probably know what to do next. If you're not so lucky…
Heat a griddle or frying pan to medium. Give it a very light spray of cooking oil. Drop the crepe mixture onto the heated surface. Using about a 1/4 cup of batter for each crepe. Tilt the pan with a circular motion so that the batter coats the surface evenly. "Thin is in" when it comes to the layer of batter.
Cook each side until the golden brown brown (about 2 minutes for side one — batter will bubble; and 1 minute for side 2). Gently remove and place on a plate. Place waxed paper between cooked crepes to prevent sticking.
Add fruits, whipped cream and a few chocolate sprinkles and the kids should gobble this yummy breakfast right up!